Business vs. residential internet
Upload speeds are no longer left in the dust.
Upload speeds will never be faster than with fiber. One gigabit internet gives you 940/880 speeds.
Your upload times shrink from minutes to seconds.
Your business can get work done twice as fast with quicker upload speeds.
Residential
Connect the whole family
Communicate with live chat and messaging
Post photos to your timeline almost instantly
Business
Discover VoIP phone systems
Implement data modeling
Support CRM initiatives
Easily crunch numbers for analytics
What is 1 Gbps internet?
Gigabit internet (one gig) is one of the fastest internet speeds you can get, and it's the most popular option among internet users.
Gigabit broadband is in a league of its own—100 people can be connected and performing tasks at the same time.
With gigabit speeds, a high-definition video conference or hour-long webinar takes mere seconds to download.
Residential
Talk face to face with video calling
Stream videos and music with almost no buffering
Play games online with no lag time
Business
Run applications within the cloud
Conduct a meeting over cyberspace instantly with Telepresence
Easily manage databases
Cut your wait times in half and still keep a manageable bill.
Cable attempts to imitate fiber connections with Data Over Cable Service Interface Specification (DOCSIS).
Though DOCSIS download speeds compare to those of fiber-optic internet, the price is much higher.
Cable cannot deliver speed parity—upload speeds will never match download speeds.
Residential
Residential internet price: $79.99/mo.
Access 24/7 assistance via online help forums and frequently asked questions
Business
Business internet price: $214.99/mo.
Get more expedient customer service backed by firm Service Level Agreements.
Verizon business 940/880 mbps internet plan
$249/mo.
3-yr. price guarantee
Fios 940/880 Mbps
Plus taxes, fees & equip. charges
+ $550 Visa®
Prepaid card
Call to order
Verizon business 940/880 mbps internet plan + business digital voice
$249/mo.
Fios 940/880 Mbps
1 VoIP Line
w/ 2 yr. agrmt.
Plus taxes, fees & equip. charges
+ $550 Visa®
Prepaid card
Call to order
Customer success story:
Is gig internet overkill?
Customer success story: Is gig internet overkill?
Things move fast at my business. I share my broadband connection with dozens of other employees in my office as we use our devices on a daily basis, and the strain was beginning to take its toll on our bandwidth, and then consequently on our productivity. I literally couldn't afford a slowdown, which is why I chose to switch to a fiber-optic network.
I did my research and found that using optical fiber enables faster speeds than other internet mediums, such as copper wire. The benefits that have come from my Fios service have exceeded my expectations as well:
A pure 100% gigabit fiber connection gives my business the best internet service possible.
With 940/880 Mbps there's no question that there's plenty of bandwidth to go around.
My service equipment transmits directly from its location to the optical network terminal box outside of my office, so my internet connection is rarely interrupted.
I'm constantly surprised by how much my business has come to rely on the speed of gigabit internet. If there was ever any doubt that a gig is worth it, it was gone by the time my internet was switched on.
How fast is gigabit internet service?
One gig internet runs at 940 Mbps, downloading data at a rate of 112.06 MB/second. At this speed you can download a 500 MB video conference in approximately 4 seconds.
With fiber-optic internet, upload speeds increase up to 840 Mbps, freeing up bandwidth. 1 gig can support up to 100 workers without lag.
Crush time constraints with 1 gig speeds.
In a world that rarely slows down, speed is a priority, and Verizon Fios gigabit internet changes the game. As high-speed internet evolves, business practices and systems are also evolving to keep pace. Small businesses are realizing the benefits of a gigabit network, particularly when it is purely fiber-optic. Whether you are supporting your employee force or running applications through the cloud, fiber high-speed internet uptimes are guaranteed and backed by airtight Service Level Agreements.
Glass-based fiber-optic connections send data faster over your network and are less susceptible to power outages and downtime, as opposed to DSL or cable lines running individually for services such as VoIP and internet. That's time you can't afford to lose.
Fiber also allows your services to be converged, and when it comes to unified communications, it's crucial that they run together smoothly. Verizon business bundles simplify your whole Fios network experience, making it easy to outfit your business with the best products available. Adding only $5 to your package, you can streamline your business to run at its best by bundling your internet and phone services.
For only $10 more, you can add Fios TV to the party, streamlining your services into one stress-free business account. Choosing to bundle is smart in more ways than one, saving your business precious time and money and setting it up for future success.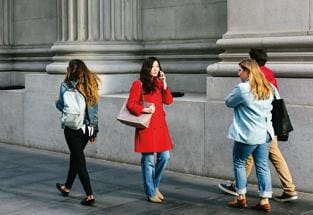 Get ready—it's happening near you.
Those in Boston, Philadelphia, Baltimore, DC and Richmond can now save even more on faster internet.
Never settle when it comes to your business internet.
Get a taste of one of the leading internet service providers.
Verizon ranks the highest in customer satisfaction among wireline service providers across the US in large enterprise, small/midsize, and very small business segments.
It's no contest—Fios internet obliterates cable.
Copper-based cable internet is susceptible to corrosion and damage. With durable glass components, fiber is more reliable and far less likely to disconnect during a power outage.
Cash in on the best internet value out there.
Verizon 1 gigabit internet has the power to support your business's ambitions while keeping a balanced bottom line. Seize the opportunity gig internet provides and start your fiber network experience. You'll be glad you did.
The Fios Router—so much more than a router.
If your business is running on ultra-fast internet, you need a router that can keep up. The Verizon Fios Router not only keeps up, it stays ahead, transmitting digital data and information to multiple connected devices within your office on a clear, uninterrupted signal. It proves to be one of the most powerful Fios Routers available and can back your networking through cables, ethernet, or Wi-Fi.
The Fios Router does double duty as your Wi-Fi router, keeping your wireless connection stable. In some environments, you may need a Wi-Fi extender to support your managed devices and employee phones, tablets, and laptop computers.
Learn more about the Fios Router
Having trouble getting your office covered?
Boost your connection with a Fios Wi-Fi extender.
Could your business benefit from a triple play?
Verizon Fios for business is a better way of experiencing your internet. Your entire business will enjoy unrivaled speeds through a fiber-optic network. But your Fios network does more than just run internet for you. Fios custom TV brings your customers unlimited entertainment, transforming dull waiting rooms into enjoyable, stress-free spaces. When it comes to your phone service, Verizon Business Digital Voice provides over 30 calling features that make conversations with customers pleasant and more effective.
The Fios gigabit connection is fast—you could almost say it's instant internet. You're not just dealing with fast downloads (which any service provider can boast); you're also getting 880 Mbps upload speeds, which smashes cable speeds. With that speed applied to each service within your business, you can gain a significant competitive edge and come out on top.
Installing your new Fios Router.*
For one of the most advanced routers in the industry, the process of setting up your Fios Router is just as simple as for any other service Verizon offers. Before you begin, be sure to disconnect any existing Fios Router you have installed and remove all of the old components (including the power supply). These will not be compatible with your new Fios Router.
Step 1: Set up your Fios Router.
Unpackage your Fios Router and its accessories.
Locate a high-speed internet (WAN) outlet.
Plug in your ethernet cable and then the power cord.
Wait for the lights to turn white.
NOTE: Red lights require troubleshooting.
Step 2: Connect your device.
Plug in your laptop or desktop computer with the yellow ethernet cable provided.
Plug the opposite end of the cord into one of the four yellow ethernet settings in the back of your Fios Router.
To connect to Wi-Fi, click into your device's network settings, then select the wireless network named "ESSID" (shown on the sticker attached to the new Fios Router). (See )
Use the password indicated on the sticker. (See )
Step 3: Configure your Fios Router.
On the device that is now connected, open an internet browser.
Enter "myfiosrouter.com" in the browser address field or enter "https://192.168.1.1".
Use the Easy Fios Router Setup Wizard to guide you through the rest of your setup.
Locate the Administrator Password on the label attached to the side of the Fios Router. (See )
Use this password in the Admin Password field on the website.
Want your Verizon services tailored to your business? Simply fill out the form to get started.
Thank You! You should receive an SMS text message from a Verizon sales consultant shortly.