How fast does 150 Mbps stream?
Is upgrading to 150 Mbps internet worth it for your personal or business needs?
Business vs. residential internet
Uploads are finally on equal footing with downloads.
Fiber is the only connection that gives you upload speeds as fast as download speeds. That means your data-heavy tasks like checking inventory and sending large files can go from taking minutes to taking seconds to complete.
Residential
Live video chatting
Multiplayer gaming
Wi-Fi supporting friends and guests
Business
Backing up data and storage
Sending batch files
Conference calls
Just how fast is 150 Mbps internet?
Work with the confidence that slowdowns aren't costing your company when you have 150 Mbps, even when multiple employees run online applications simultaneously.
Residential
Streaming music or videos
Scrolling through social media feeds
Reading articles and blog posts
Research for homework
Online shopping
Business
Transferring or sending large files
Online research
Delivering quotes to customers in real time
Ecommerce
Checking warehouse inventory
Faster internet is worth the cost.
While residential internet is generally less expensive than business internet, it doesn't offer the advanced features that your small business will begin to depend on.
Residential
Bandwidth for 1-6 users
Provides self-help via forums and frequently asked questions
Business
Bandwidth for 15-20 users
Comes with priority customer support with service level agreements that provide faster troubleshooting
Is 150 Mbps too much, too little, or just right for your business?
It's commonly believed that 150 Mbps internet is a bandwidth that falls in between what most people seek. But is it more than what the average user is looking for? Is it less than what a business needs? It's the ideal broadband speed for many situations and is especially compatible with business setups.
150 Mbps internet is sufficient for a variety of everyday online business applications and tasks. If you're not sure if it's the right speed for you, consider some of the things this bandwidth not only covers but makes a breeze:
Providing Wi-Fi access to customers
Viewing corporate training videos
Sending quotes and invoices
A helpful guideline to follow is to get an internet speed that's twice as fast as you think you'll need to accommodate the busier times your business will go through. That way, you're covered no matter what.
Is 150 Mbps internet speed good?
150 Mbps internet delivers download speeds at 17.88 MB/second, which supports a 255 MB operating system update in approximately 14 seconds.
A fiber-optic internet connection provides equal upload speeds. DSL or copper cable lines deliver slower speeds at 5–10 Mbps for uploads, taking more than three minutes to upload a 250 MB backup file.
5 things that affect your internet speed.
The speed you're paying for. Do you need internet for yourself or for your business? Do you run a small business or a large corporation? Perhaps your family runs a lot of electronic devices and gaming consoles at once. Tailor your speed to your situation and needs.
Your service connection type. Fios is the only internet connection that provides hyperfast speeds and unwavering reliability. A pure fiber-optic connection outpaces cable in every capacity. Fios also provides symmetrical upload and download speeds.
The current load on your provider's network. Being prepared for how many users and devices will be tapping into your internet is crucial in ultimately determining what speed matches your needs.
Router capabilities. A router acts as a channel to direct data sent to and from your computer. If your router is outdated, overloaded, or incorrectly configured, that data can slow down or become disrupted altogether.
The material your cables are made of. The majority of internet cables are made of two types of materials. Fiber-optic cables use glass to transmit data through light signals, and cable lines use copper which operates much slower and is more prone to interference.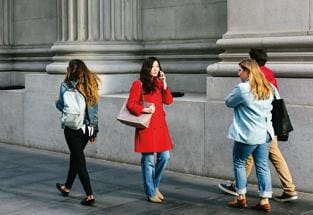 Get ready—it's happening near you.
Those in Boston, Philadelphia, Baltimore, DC and Richmond can now save even more on faster internet.
Verizon provides internet your business can't live without.
Get the best value for your equipment.
Verizon provides free installation for your convenience, so you're covered whether you're making payments on your router or buying it up front.
Put our network expertise to work.
Verizon Fios has been ranked #1 by PC Magazine for its lightning fast internet speeds ten years in a row. Discover what Verizon can do for you today.
Save more when you bundle.
Bundling your internet, phone, and TV services into one simple bill saves you money and time and allows your focus to remain on your business's success.