How fast is 500 Mbps internet?
Experience dreamlike streaming with this powerful speed.
Business vs. residential internet
Lightning-fast upload speeds make a difference.
Most services provide fast download speeds then cut corners on upload speeds. But that's not good enough for a small business. Upload speeds determine how quickly you can transfer files and how smoothly video conferences go. Fiber is one of the only services that offer equal upload and download speeds to your small business.
Residential
Online gaming
Live chatting
Social media photo uploading
Business
Supports VoIP phone systems
Video calling
Screen sharing during meetings
Does having one of the fastest internet speeds make a difference?
Half-gig—or 500 Mbps—internet ranks among the fastest you can get, with 2 gig being the fastest and 1 gig after that. That said, 500 Mbps internet makes a significant difference. Unlike slower speeds, it is strong enough to support buffer-free video streaming and several groups of people using the connection at once.
Residential
Buffer-free video streaming
Video calling
Online gaming with no lag or delay
Business
HD video downloading
Easy communication with remote workers
Ability to back up large files
You get what you pay for with high-speed internet.
While residential internet is generally less expensive than business internet, it doesn't offer the advanced features that your small business will soon depend on.
Residential
A steady connection and fast speeds
24/7 help via online forums and frequently asked questions
Business
Faster customer support backed by service-level agreements
Confidence that your internet can handle business tasks
What can 500 Mbps do for your small business?
For some things, you can't go fast enough. Settling for slower internet could end up costing your business time and money because you can't finish work quickly enough. Securing the speed that comes from 500 Mbps may be what you need to sustain your workload, but to make sure, here are some examples of what half gig internet handles easily:
Video conferencing over long distances or internationally
Downloading, storing and backing up large files
Supporting a large employee base and many applications being used at once
A helpful guideline to follow is to get an internet speed that's twice as fast as you think you'll need to accommodate the busier times your business will go through. That way, you're covered no matter what.
Need faster internet? Try 1 gig
How fast is 500 Mbps internet?
500 Mbps translates to about 59.6 MB/second download speeds—roughly half a gig speed. This means you can download a 255 MB iTunes update in about 4 seconds.
If you have fiber-optic internet, you will also get this speed for both uploads and downloads, which is important when you're performing bandwidth-heavy tasks, like video conferencing.
Internet at half a gig is a game changer.
In 2010, 50 Mbps was the fastest Fios internet connection available and cost customers approximately $250 a month. Today, you can get 500 Mbps internet for around that same price, which at 10 times the speed is a considerable upgrade. With half a gig propelling your internet speed, there's no real limit to what you can do.
For a business, the question of whether or not you have enough bandwidth is often a matter of choosing to upgrade—you can either step up or get left behind. If you are in a competitive market, falling behind can hurt your business in more ways than you know.
Staying ahead of the competition and being able to provide the best services possible is worth the cost of faster internet and catapults your business to the forefront of its market.
In addition to faster internet speed, Verizon makes it easy to supply your business with the top products available when you bundle your internet and phone services. Everything you need is contained in one stress-free business account and bill. Make the sensible choice to save time and money, and keep your business running at its best.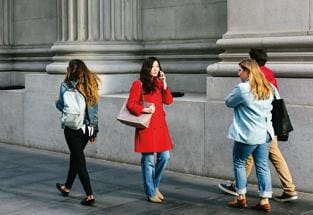 Get ready—it's happening near you.
Those in Boston, Philadelphia, Baltimore, DC and Richmond can now save even more on faster internet.
Your business deserves internet that gets the job done.
Verizon grows Fios internet to nearly 6M subscribers.
The only thing that rivals the speed of Fios is its reach. Verizon serves 5.92 million Fios internet subscribers every day. Talk about impressive coverage!
Where there's Fios, cable is too—trying to keep up.
A pure fiber-optic connection is faster, more reliable, and provides more value than cable, taking care of your needs quickly and efficiently.
Reliable equipment gives you peace of mind.
Whether you buy your router up front or make payments, you'll get top-of-the-line equipment and free, no-hassle installation.