Fios TV: Fiber clarity, great channels. The best entertainment.
Get the channels you want on the
fiber-optic network you want.
Fios TV packages starting at
$70.00
/mo
1st Set Top Box rental included
Verizon Fios TV: Let Us Entertain You
Get TV: Pick your Channels
Fios TV Test Drive
Test 425+ channels for 60 days, then we'll recommend the best plan for you.
Your Fios TV
Pick your 5 favorite channels and we'll recommend a package with 125+ channels for you
1st Set Top Box rental included
Add Set Top Box for $12/mo
More Fios TV
225+ channels
1st Set Top Box included
Basic DVR Service included
The Most Fios TV
425+ channels
1st Set Top Box included
Multi-Room DVR included
Premium channels like The Movie Channel, Epix and Showtime included

Unlimited DVR storage space
Fios TV Mundo
210+ channels
1st Set Top Box Included
Basic DVR Service included
Fios TV Mundo Total
215+ channels
1st Set Top Box Included
Basic DVR Service Included
Click to hide your monthly total
Your estimated
monthly total:
$0
What is Fios TV?
Fios TV is your answer for great channels and super-fast streaming. Built on a 100% fiber-optic network, Fios service delivers the channels you want with virtually no lag, including over 170,000 On Demand titles.
International Channel Add-Ons
Spanish
You won't have to settle for only a few channel options with a Fios Spanish plan. Get a wide selection (over 60 channels!) of must-have networks for a complete Spanish-language lineup.
Sports
Get the most in-depth interviews and the best game-day coverage with your choice of sports add-ons, such as NBA LEAGUE PASS, NHL® CENTER ICE®, NFL RedZone, FOX Soccer Plus, and MLS Direct Kick.
International
Add some of the most popular channels in over 20 languages—including Hindi, Korean, Italian, Mandarin, Cantonese, and Portuguese—for your multilingual family or your multicultural housemates.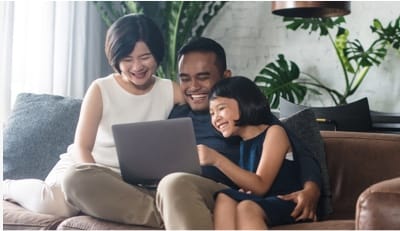 Get access to top programming with premium channels.
Ever wanted to watch a new show only to realize it was on a paid network? Avoid that disappointment with premium channels from Fios. Get the TV service you want by adding some of the nation's top premium networks (including HBO, Showtime and Cinemax) so you can enjoy the award-winning documentary, award-nominated series, and viral sensation you want to.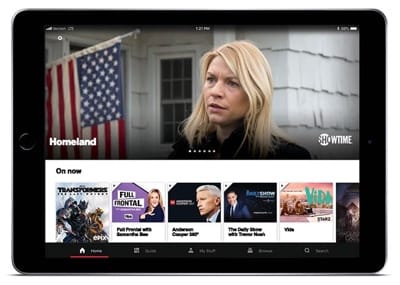 Fios TV app: Take your favorite shows with you.¶
Won't be home to catch that season finale? Put your TV in your pocket with the Fios TV app. Built with a user-friendly interface and customizable settings, you can stream shows through your Fios internet connection or download entire episodes to watch from virtually anywhere, data-free on Verizon Wireless. So whether you're waiting for soccer practice to finish, in airplane mode on a long flight, or last in line at the grocery store, you've got entertainment to help you beat the wait. Best of all? You don't have to wait for installation, so you can start streaming the moment you order a TV package from Fios.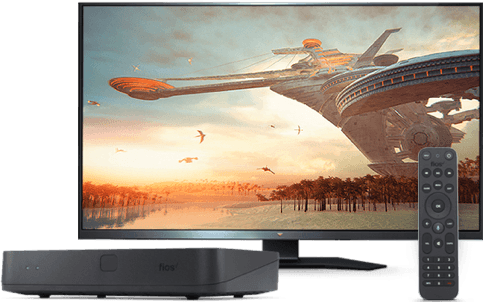 Your TV just went wireless with Multi-Room DVR.
End fights over the remote with Fios Multi-Room DVR Service. Equipped with wireless connectivity, the Multi-Room DVR Service lets you place your TV almost anywhere and sync multiple devices to entertain the whole family at once. Plus, add smart voice control to your TV experience with Amazon Echo's Alexa, so you won't have to sift through the couch cushions to find your remote control. Simply speak your selection, and Alexa will act as a voice remote to communicate with your Fios set-top box to help you stop, play, change channels, and even record a program.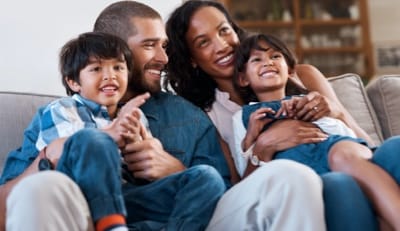 Verizon Stream TV: Your Entertainment Sorted
Now you can manage your streaming subscriptions with one device: Verizon Stream TV via the Android TV standard launcher. Powered by your home Wi-Fi or Ethernet connection, Stream TV provides a platform for your streaming services, such as Netflix, Prime Video, Hulu, and Disney+, so you never have to go far to be entertained.
Experience perks such as Google Assistant Voice Remote and 4K Ultra High Definition with enabled devices. Or send your pictures, videos, and music straight to your TV with built-in Chromecast. Get your entertainment sorted today with the new Verizon Stream TV service.
Personalize Your Fios and Save
The Fios Plan You Need at One Low Price.
Maximize your home services with a Verizon Fios plan. You'll be able to choose all three services at one low price on one streamlined bill. Mix & match TV with internet and home phone for added value. Call it a deal, call it a steal, we call it Verizon Fios.
Personalize Your Own Verizon Fios Package
Pick the services you need, both for one low price. After you've selected the Fios TV package that's right for you, tack on an extra service. Choose between Fios TV with Fios internet or Fios TV with Digital Voice to amplify your home services experience.